Smart door phone
"Smart" intercom – your personal butler
You have guests, and you are passionate about watching a football match or your favorite TV series, and do not want to open the door to your friends, miss the decisive goal of your team or a romantic scene with the main characters? Now you do not have to look up from the TV screen, because in a "smart" home you have a personal butler-a multifunctional video intercom.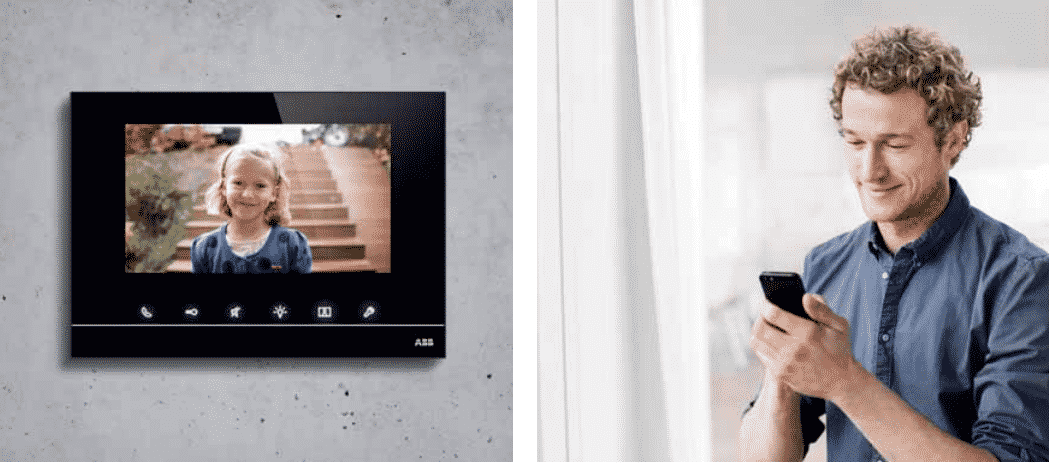 You have company, sir!
"Smart" intercom is constantly on the alert. If guests come to your house and call the intercom, a video image appears on the touch panel in the house, and you know exactly who came.
You can even see your guests on TV. The "smart" intercom notifies you of the arrival of visitors and transmits a high-quality video picture not only to the control panel, but also to the TV, where you will have a good look at the visitors. Without getting up from your chair, you can see and hear your guests and find out what you were disturbed about.
Using the button on the control panel, you can open the door and let visitors in if you decide that this is necessary.
Your favorite call, sir!
Now you will not miss a single guest, even if you are in the bathroom or in the garage, your personal "butler" will notify you of the arrival of guests with your favorite melody, which will be heard in all rooms at the same time. This" smart " home will help the multiroom system, which intelligently distributes sound and video throughout the home. You can set up different music alerts in different rooms, for example, in the bedroom you will like a more calm, quiet music, and in the living room or in the kitchen, you can put a cheerful, cheerful ringtone.
The smart video door phone is always on the alert, even when you are away, because it has an answering machine function. You can write a message for the guests that you are not at home, and if necessary, they can leave you a message. Also, the video intercom-the butler, in your absence, will prudently record all visitors (photos, videos, audio). When you get home, you can easily review all the records and be aware of who came to you.
Enjoy your stay, sir!
Also, many people like the function that allows you to transfer a call from an intercom to a mobile phone. For example, you are sitting on a fishing trip, and at this time someone came to your home.
You receive a call and a photo of the guest on your mobile phone, and you can communicate with the visitor via your mobile phone. This is your work colleague, and you did not have time to give him very important documents? You can use your phone to let your friend in, and then you can also use your mobile phone to close the door behind him.
All quiet, sir!
Your "butler" will also monitor the security of your home, he will be able to take pictures of everyone who pressed the bell button, with a time stamp when it happened. You will always be calm for your family, as the video intercom will protect the house from uninvited guests and make your life in a" smart " house even more comfortable and calm.