Multiroom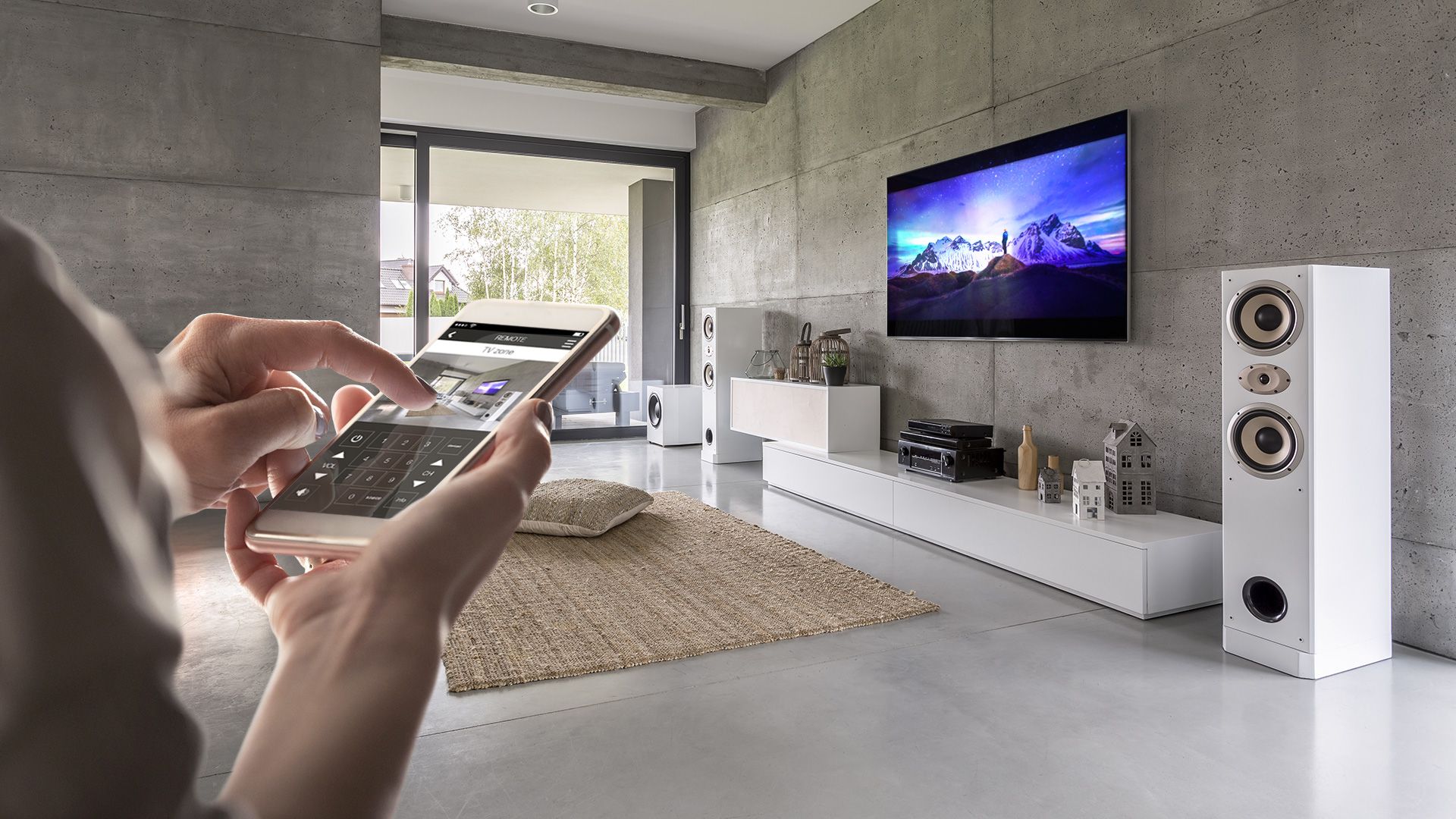 Technological progress and digitalization are very fast and day by day make life easier, more convenient, better. Even your own home can be equipped in accordance with the latest word of innovative technologies. The" Multiroom " system of a smart home from MimiSmart is able to surprise even the most sophisticated people.
What is a multiroom in a smart home ?"
The principle of operation is as simple as possible: it combines all the gadgets in the house, receives and processes all video and audio signals, allows you to remotely and quickly manage these multimedia processes. You can connect a PC or laptop, a home theater, a stereo system, modern TVs, music speakers, a TV center and all similar devices to the multiroom.
System features
With the help of multiroom, the owners and guests of the house can adjust the sound signals in the house to their preferences, establish communication with each other, view photo and video files, and much more. Now we will analyze each MultiRoom component in more detail.
The integration of the functionality allows you to:
Enable your favorite audio/video/photos on any device connected to the Smart Home multiroom system;
Adjust the volume, frequency, and order of playback, repeat files, pause a track/movie, and so on.;
Personalize the built-in equalizer settings;
"transfer" media to any room in the house or apartment where the multiroom component is present;
Turn on the reception of radio waves, record broadcasts, play back at any time;
Send and listen to voice messages to any part of the house;
Enable a video file or view photos on one screen, if necessary, transfer to any other;
Configure and transmit alerts (alarms, door locks, etc.).);
Upload, download and store any media files in the archive;
Use audio devices as a radio nanny;
Play audio from any source on the Internet: social networks, YouTube, browsers, etc.
These are just a few of the main features of the multiroom that will transform an ordinary living space into a real technological world.
Advantages of Multiroom
Integrating a multiroom into your home isn't just a way to turn it into a true hi-tech abode. This is, first of all, a practical and profitable solution for the owner and his relatives. A well-configured multiroom function helps to simplify the performance of routine small tasks, and of course, to raise the entertainment and leisure part of life to a new level.
Advantages of the system:
Save money on paying for Internet and electricity (multiroom is configured so that soundlightvideo and other signals can move with a person to any room and automatically turn off where no one is there);
Save money on the purchase of equipment (for the successful operation of the multiroom, it is not necessary to buy tons of technical devices, just 1-2 devices in each room are enough, connected and configured);
Optimization of space and comfort (multiroom does not require additional means of connecting between devices, such as flash drives, wires, cables, etc., which means that the house will be freer and safer, especially if there are children and / or pets);
Control "in 2 clicks" (to start using the multiroom, you do not need to study special literature or study instructions for a long time – the control panel interface is intuitive for any user who has held a modern smartphone in his hand at least once);
Simplification of household issues (the system was designed to simplify and brighten up such everyday tasks as cooking breakfast, watching a movie, playing with children, meeting guests or ordinary family leisure).
Multiroom can be connected to any home, installation features and settings are discussed individually. You can also implement the functions of a smart home at the stage of renovation or reconstruction of a residential building.
How to manage video and audio in your home
Control of all devices in the "smart" home can be done with the help of special Vimar buttons, which in appearance resemble ordinary wall switches. The buttons are mounted in several of the most frequently visited areas of the living space. Vimar buttons allow you to turn on or off music, adjust the volume, adjust lighting, climate, and much more.
Also, when installing MultiRoom MiMiSmart, the homeowner has the opportunity to work with the system through their personal gadgets, such as a smartphone, tablet or laptop. The control panel is simple and clear, even for those who have never used the multiroom functions. The built-in menu in Russian is carefully divided into sections that correspond to the rooms connected to the system. The functionality is also divided into blocks for tasks: climate, light, sound, and others. You can even control the multiroom using voice assistants, such as Siri for Apple devices, or Alice for Android gadgets.